This page contains questions about the quizzes and the web site.
Confusing Order It questions
Q:
Sometimes people report that the quiz marks a correctly answered "Order It" question as incorrect like at the picture below: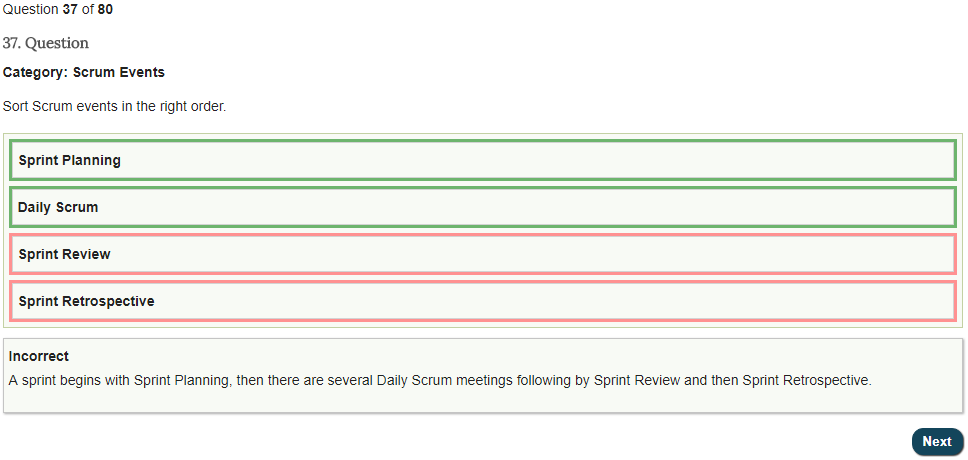 Mikhail: This is a quiz engine feature. When you press "Check" button for an "Order It" question, it always sets the answers in the correct order and marks in red the answers that were at wrong places.
So, the following happened before the situation shown at the screen shot. The user placed Sprint Retrospective as #3, Sprint Review as #4 and pressed "Check" button. The quiz engine swapped the two last answers and marked them in red.

What do I need for PSM II?
Q:
Mikhail, the PSM quiz prepared by you was indeed very helpful and several practices helped me to sail smoothly on the final day and score 96 %. I am planning for PSM II, hence looking forward to your guidance on this.
Mikhail: What about PSM II, the certifications at Scrum.org are changing. The new PSM III is the former PSM II (essay questions + multiple choice) and the new PSM II is the former PSP (only multiple choice questions).
So, now PSM II is simpler than it was before. No more essay questions. The number of questions is just 30, but the questions are tough (think about the hardest questions in PSM I).
PSM II covers wider subject areas: additional questions from PSPO subject area and from Nexus.
Now I am working on a PSPO I quiz. When it is ready, probably I will try create a mock test for PSM II.