This page contains questions about the quizzes and the web site.
Confusing Order It questions
Q:
Sometimes people report that the quiz marks a correctly answered "Order It" question as incorrect like at the picture below: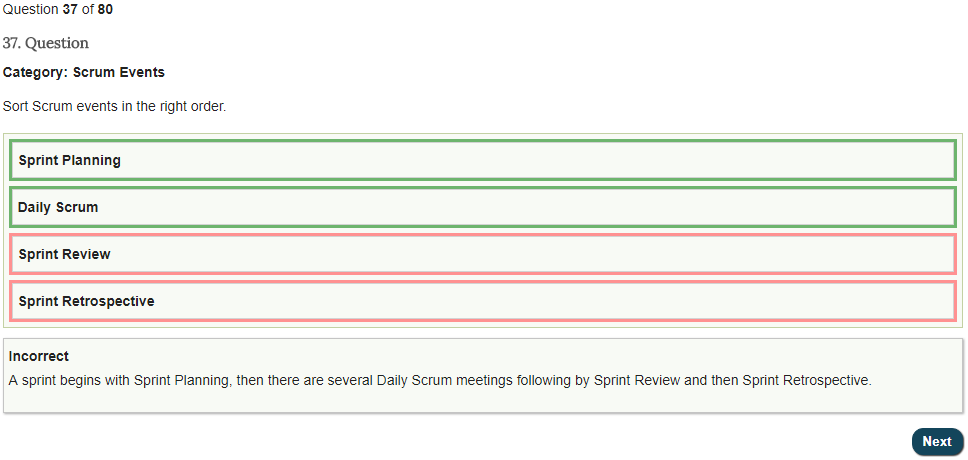 Mikhail: This is a quiz engine feature. When you press "Check" button for an "Order It" question, it always sets the answers in the correct order and marks in red the answers that were at wrong places.
So, the following happened before the situation shown at the screen shot. The user placed Sprint Retrospective as #3, Sprint Review as #4 and pressed "Check" button. The quiz engine swapped the two last answers and marked them in red.

What do I need for PSM II?
Q:
Mikhail, the PSM quiz prepared by you was indeed very helpful and several practices helped me to sail smoothly on the final day and score 96 %. I am planning for PSM II, hence looking forward to your guidance on this.
Mikhail: What about PSM II, the certifications at Scrum.org are changing. The new PSM III is the former PSM II (essay questions + multiple choice) and the new PSM II is the former PSP (only multiple choice questions).
So, now PSM II is simpler than it was before. No more essay questions. The number of questions is just 30, but the questions are tough (think about the hardest questions in PSM I).
PSM II covers wider subject areas: additional questions from PSPO subject area and from Nexus.

PSM or CSM?
Q:
What is the best Scrum certification? Is it PSM I by Scrum.org or CSM by ScrumAlliance?
Mikhail: As far as I know, the both certifications are equally recognized. However, there are some important differences:
To get certified with ScrumAlliance it is mandatory to take their course (and pay for it). For PSM I certification no courses required, but you can take their course if you want.
PSM I exam is harder to pass (but it is still completely manageable). PSM has 80 questions and 85% passing score whereas CSM has only 35 questions and 69% passing score.
So, there are two points to consider when you are choosing between PSM and CSM:
Do you need a Scrum training? If yes, there is no much difference between the certifications. Look at the available trainings: location, time, reviews, opinions about specific trainer and choose the one that suits you best.
Do you have extra money for the training (about $1000)? If not, your choice is PSM certification.
How much time to take PSM after payment?
Q:
Does anyone know how much time you have to take the exam once you pay for it?
Mikhail: At the PSM I page you can find that: "Passwords have no expiration date, but are valid for one attempt only."
So, when you pay for the exam, the next day you have a password to start the exam. The password has no expiration date.

Where are the hard questions?
Q:
I just passed PSM I and must add there were several questions that I have never encountered before, neither in your quiz nor in the open exams. Why does not your quiz contain them?
Mikhail: I created my quiz reading the Scrum Guide and composing questions about every paragraph. So, it is pretty straightforward. It helps to study the Scrum Guide well.
However, my quiz asks nothing about applying Scrum in the real life. Questions about it I name as "second level" questions. They have no direct answer in the Guide, however if you think about it, you should be able to deduce the answer.
Fortunately, the real PSM I exam contains just a few of them. Such questions are the base for the next level PSM certifications. So, I ask people to score about 100% in the open assessments to pass the exam even if the harder questions are answered wrong.
I believe it is possible to create more "second level questions" than direct questions about the Scrum Guide. So, I cannot invent all of them and include into the quiz. However, adding 4-5 "second level" questions into the quiz looks as a good idea.